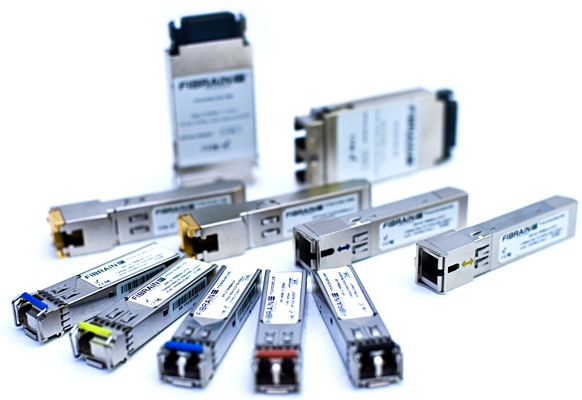 Fibrain offer variety of optical transceivers for both telecommunication and data communications applications. SFP(miniGBIC)/XFP/SFP+ are designed to support SONET, Gigabit Ethernet, Fibre Channel, and other communications standards. Most SFP optics are used for Gigabit Ethernet and come in a wide variety of transmitters/receivers for different distances and fiber types as well as conversion to RJ-45 (copper). All transceivers types are build according to the MSA (Multi Source Agreements) standards. Most of Fibrain's optical modules can be prepared as compatible with:
3Com
Alcatel
Allied Telesis
Mikrotik
Avaya
Brocade
Cisco
D-Link
ECI
Edge-Core
EdiMax EMC
Enterasys
Ericsson
Extreme Networks
Force10
Foundry
H3C
HP
Huawei
Intel
Juniper
Linksys
Nortel
Netgear
Planet
RAD
Riverstone
SMC
Telco
TP-Link
TrendNET
ZTE
ZyXEL
To confirm compatibility please contact technical support before ordering.
Why to choose Fibrain, not equipment vendors modules?
There are certain similarities between SFP business and ink or toners, or spare parts for car. You can purchase "exactly" same product but with lower price. Equipment vendors in most cases subcontract or OEM their modules from manufactures and later on sell them with high margin. Except the code in EEPROM there is no difference between Fibrain or branded modules by equipment manufacturers.
Furthermore many equipment vendors don't offer full portfolio of SFP/SFP+/XFP for every distance or xWDM technology.
With Fibrain we can guarantee that they is no negative effects on equipment to which it's plugged.
Fibrain offer additional values as like:
Warranty – even lifetime,
Coding- we can overcome locking mechanism from equipment vendors even small one that are not listed in our datasheet.
Flexiblity: specially selected modules that goes beyond their specification and offer better sensitivity or tx power,
Additional Test Reports with dispersion, exact sensor sensivity etc
Try&buy – You can evaluate product prior purchase for specified period of time
Reilability and error-free operation
If you have any questions in general about your optical networking application/s,
please don't hesitate to contact us for help and advice. Thank you!